Tornado outbreak sequence of June 9-13, 2021

Map of tornado tracks on June 10.
Date of tornado outbreak:
June 9-13, 2021
Duration1:
4 days, 11 hours, 32 minutes
Maximum rated tornado2:
EF5 tornado
Tornadoes caused:
155
Total Damages:
$870 million
Total Fatalities:
51 (+2 non-tornadic)

1Time from first tornado to last tornado
2Most severe tornado damage; see wikipedia:Enhanced Fujita Scale
The tornado outbreak sequence of June 9-13, 2021 was a deadly series of tornado activity across the Great Plains and Midwestern areas of the United States. Over the four-day period, 155 tornadoes were confirmed in 8 states, resulting in 51 fatalities and causing nearly $1 billion in damage. The outbreak sequence peaked on June 10, on which 81 tornadoes touched down in the Dakotas and western Minnesota, including the first officially-rated EF5 tornado since 2018. 42 fatalities occurred on June 10, making it the deadliest 24-hour period of tornadic activity since November 12, 2019, on which 44 fatalities occurred. An additional 26 tornadoes were confirmed in Texas and far southern Oklahoma on June 12, including another violent tornado, rated EF5 based on severe vegetation damage.
A total of 51 fatalities occurred as a result of the outbreak; 39 of which were caused by the Ashley, North Dakota tornado. In addition to the tornadic fatalities, one person was struck by lightning and killed in South Dakota on June 10, while another person was killed in a flash flood in Missouri on June 13. The outbreak caused a total of $870 million in damages, making it the costliest outbreak since 2014.
Confirmed
Total
Confirmed
EF0
Confirmed
EF1
Confirmed
EF2
Confirmed
EF3
Confirmed
EF4
Confirmed
EF5
155
53
47
32
17
4
2
Meteorological synopsis
June 9-10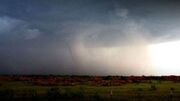 The outbreak was spawned by an upper-level low-pressure area and associated trough that moved southeastward from the Canadian Rocky Mountains in the morning hours of June 9. Due to the presence of a strong mid-level jet stream at the base of the trough, considerable instability prompted the Storm Prediction Center to issue an Enhanced risk of severe weather for central and eastern Montana, based primarily on a 30% hatched risk of large hail; although a small 10% risk of tornadoes was issued for the southeastern corner of the state. Although a few discrete supercells developed in the early to mid-afternoon hours, the event quickly reorganized into a quasi-linear convective system (QLCS) and produced mainly reports of damaging wind and large hail. Six weak tornadoes were confirmed on June 9, including an EF1 which caused 11 injuries in the unincorporated community of Olive.
In the morning of June 10, the Storm Prediction center issued a Moderate risk of severe weather for much of the central Dakotas and far western Minnesota, with a 15% hatched risk of tornadoes and a 45% hatched risk of large hail. Hail up to 3" (7.6 cm) in diameter was reported in western Montana and extreme northwestern Wyoming in the morning hours, while the main risk area remained relatively quiet. As discrete supercells developed in the late afternoon, the Storm Prediction Center issued a High risk for a small area of south-central North Dakota and north-central South Dakota, with a 30% hatched risk of tornadoes. Several strong tornadoes touched down over the Standing Rock and Cheyenne River reservations, though no fatalities or injuries were reported. A violent EF4 tornado caused severe damage to the Dakota Access Pipeline at 4:17 PM, resulting in a major oil spill which led to catastrophic ecological damage in the area during the following weeks. As the supercells continued east, numerous more tornadoes were reported, including a high-end EF2 which caused one fatality near Strasburg, North Dakota, and another EF4 which resulted in four fatalities near Gettysburg, South Dakota. A violent, long-tracked wedge tornado tore through Ashley, North Dakota at 7:20 PM, causing 39 fatalities and becoming the first officially-rated EF5 tornado since 2018. Two additional EF4-rated tornadoes and four EF3 tornadoes occurred in the eastern Dakotas in the late evening; one long-tracked EF4 caused 5 fatalities near Fairmount, North Dakota after dark before continuing into western Minnesota. Numerous tornadoes were reported further east into western Minnesota during the overnight hours; however, most were weak.
June 11-12
As the northern High Plains system weakened and dissipated in the morning of June 11, a dry line and cold front associated with another upper-level area of low pressure began tracking eastward across Kansas and southern Nebraska.
Notable tornadoes
Ashley, North Dakota
EF5 tornado (NWS)
Duration
1903 CDT – 1958 CDT
Intensity
400 km/h (250 mph) (1-min)
Standing Rock Reservation, South Dakota
EF4 tornado (NWS)
Duration
1547 CDT – 1631 CDT
Intensity
285 km/h (180 mph) (1-min)
This violent and long-lived tornado, rated EF4, impacted the Standing Rock Aboriginal Reservation and areas of Campbell County to the east in the afternoon of June 10. It became particularly notable in the weeks following the outbreak sequence for critically damaging the Dakota Access Pipeline, leading to a very large oil spill. The tornado touched down at 3:47 PM to the northwest of the town of Trail City in the Cheyenne River Reservation, and at first snapped tree branches over a small wood lot at EF0 strength. The tornado then passed over a farmhouse, removing most of its roof, snapping more tree branches, and slightly shifting two parked cars at low-end EF1 strength. As the tornado passed over a stretch of empty fields, it flattened corn stalks and pushed a tractor onto its side, before passing over another farmhouse, where EF1-level roof damage was again observed, and three shallow-rooted trees were pushed over. Two barns had their roofs removed and around 30 turkeys were killed. The tornado then crossed a small ridge, leveling two small tool sheds at high-end EF1 strength. Around the same time, the funnel, which had been visible as a thin elephant trunk, widened to roughly 150 yards in width while becoming cone-shaped. More trees were toppled before the tornado crossed into the Standing Rock reservation.
Shortly after entering the Standing Rock reservation, the tornado gained considerable strength. High-end EF2 damage was observed as the tornado struck another farm, stripping away the roof and wooden paneling of a steel-reinforced barn, leaving only the frame still standing. A hay baler nearby was flipped and rolled, and wheat crop was flattened. The tornado then passed over a row of seven manufactured homes, all of which were completely demolished at high-end EF2 strength. By 4:01 PM, the tornado had reached EF3 strength, demolishing a well-constructed frame house, where only one interior bathroom wall was left standing.
Ipswich, South Dakota
EF4 tornado (NWS)
Duration
2011 CDT – 2028 CDT
Intensity
270 km/h (170 mph) (1-min)
In the early evening of June 10, a narrow but violent tornado touched down in north-central South Dakota, affecting rural areas of Edmunds County near the town of Ipswich. The tornado touched down at 8:11 PM CDT over a farmer's field and tracked east-northeast at around 20 miles per hour. The tornado's first damage occurred as it crossed a small dirt road, toppling several trees and power poles at EF1 strength. Within two minutes of its touchdown, the tornado narrowed from a tall cone into a rope, but continued to strengthen. High-end EF1 to EF2-level damage was observed as the tornado passed over a farmstead, stripping the roofing and wooden paneling from the walls of a barn, leaving only the steel frame standing, removing the roof from the farmhouse, snapping several trees, and shifting two parked cars. Wheat in a nearby field was flattened at EF2 strength as the tornado's path began to curve to the northeast. At 8:17 PM, the tornado passed over a row of mobile homes, completely leveling four and mostly demolishing five others. Five people were injured; two were placed on life support following the tornado. Despite the severity of the damage, the homes were poorly maintained, with at least one showing signs of a termite infestation, and only one was determined to have sustained EF3 damage.
The tornado's first consistent EF3-level damage began roughly two-thirds of a mile to the east at 8:19 PM, where dozens of trees in a small wood lot were snapped, uprooted, and partially debarked. EF3-level damage continued as the tornado passed over and demolished a small inn, as well as tossing four nearby parked cars up to 75 yards. At 8:20 PM, the tornado briefly reached EF4 strength as it passed over another farm, sweeping away the farmhouse, several barns, and a tractor shed, and throwing a pickup truck and a minivan over 150 yards in opposite directions. Several trees in the area were debarked as well. The tornado weakened to EF3 strength shortly afterward, snapping several steel utility poles along U.S. Route 12 and uprooting several dozen trees. By 8:24 PM, the tornado had weakened to EF2 strength as it passed over a cluster of rural frame houses, removing several roofs and demolishing two exterior walls at one house. Further to the northeast, a brick church lost part of its roofing as the tornado passed over at low-end EF2 strength. A few small brick houses sustained minor roofing damage at 8:26 PM before the tornado continued over empty fields, eventually dissipating at 8:28 PM.
The tornado did not cause any fatalities over its 7.2-mile path, but around 30 people were injured; four critically. Remaining on the ground for a total of 17 minutes, the tornado was at EF2 strength or lower for most of its life; being at EF3 strength for around five minutes and at EF4 strength for less than one minute. Notably, the tornado was only around 40 yards wide while at EF4 strength; significantly narrower than the overall average for tornadoes, at about 75 yards. The touchdown of another EF4 tornado near Claire City later on the same day would be the first instance since June 16, 2014 of three or more violent tornadoes touching down in the same state on the same day.
Cassoday, Kansas
EF3 tornado (NWS)
Duration
1803 CDT – 1851 CDT
Intensity
270 km/h (165 mph) (1-min)
This intense and deadly wedge tornado, rated EF3, affected areas of eastern Kansas in the early evening of June 11, most notably the small town of Cassoday. The tornado touched down at 6:03 PM CDT in the outskirsts of El Dorado and tracked northeast at 45 miles per hour, initially damaging the roofs of several stores and restaurants and toppling power poles at EF1 strength. The tornado then crossed over rural areas of Butler County, toppling trees and several more power poles as it expanded to a quarter-mile in width. At 6:07 PM, the tornado passed over a farm, stripping away most of the roof of the farmhouse and several nearby barns at high-end EF1 strength. Two people were injured at this location. EF1 to low-end EF2-level damage was observed over a forest, where hundreds of trees were snapped, toppled and denuded. The tornado continued to widen, reaching half a mile in width at 6:10 PM; by which time it had attained high-end EF2 strength. A few rural frame houses near the Kansas Turnpike were mostly demolished; nearby tool sheds and other small outbuildings were swept away, and a parked pickup truck was tossed 40 yards.
The tornado briefly weakened to EF1 strength, damaging the roofing of several more houses, before reintensifying as it crossed El Dorado Lake into Chelsea Township. Trees on the northeastern shore of the lake were snapped and partially uprooted at mid-range EF2 strength. Roughly 500 yards further northeast, a farmhouse was struck, losing its roof and two exterior walls at high-end EF2 strength, while a nearby greenhouse was lifted and tossed. Two cars and a tractor were flipped, and one person was injured. Damage in the area was rated high-end EF2. The tornado continued over mostly empty fields for the next mile of its track, snapping several more trees before reaching EF3 strength at 6:17 PM. A mansion in rural Sycamore Township had almost all of its second floor completely swept away and first-floor walls damaged; a parked SUV in the driveway was tossed 120 yards, and sections of pavement were scoured from the driveway. The tornado crossed over very rural areas over the next five miles of its track, leaving little damage. A few barns and farmhouses had their roofing removed or were completely or mostly demolished as the tornado fluctuated between EF2 and EF3 strength. At 6:25 PM, the main building at a country club to the south-southwest of Cassoday was severely damage, with its third and the majority of its second floor being demolished and swept away, and a portion of its main floor collapsed. Two people at the country club were killed and another five were injured.
A tornado emergency was issued for Cassoday at 6:26 PM; moments later, an electrical substation was damaged by an EF1-rated satellite tornado, causing most of Cassoday to lose power. The main tornado continued to intensify as it approached the town, sweeping away two unanchored farmhouses and resulting in one fatality at each. The tornado entered the town at 6:29 PM at high-end EF3 strength. A residential area was struck first, where many well-constructed frame houses were demolished or completely leveled, and parked cars were tossed as far as 110 yards. Small trees were partially or mostly debarked as well. To the northeast, several small stores were completely leveled, while the Cassoday Senior Center was demolished. A Dunkin' Donuts shop was demolished, and two concrete street light poles in the parking lot were snapped, suggesting borderline EF4 strength. A brick church and primary school were demolished as well. Six fatalities and over 40 injuries occurred within Cassoday itself.
The tornado was near EF4 strength just to the northeast of Cassoday, where several trees were completely debarked and minor ground scouring occurred; shortly afterwards, it began to weaken, demolishing two farmhouses, several barns, and a hardware store along the Kansas Turnpike at mid-range EF3 strength. EF2 to low-end EF3 damage occurred as the tornado passed over another forest, snapping numerous trees in its path, and uprooting and tossing several. Another farm was hit on the far side of the forest; three barns and a tractor shed were partially demolished and the farmhouse had its roof completely removed; damage in the area was rated low-end EF2. The tornado reintensified to high-end EF2 strength as it passed over a small refinery, causing minor damage to an oil pumpjack before weakening to EF1 strength as it passed over a cluster of mobile homes to the northeast of the refinery, many of which lost their roofing and walls. Ten people were injured at the mobile home park. EF1-level damage to trees continued as the tornado crossed over another stretch of forest for the next half-mile of its path before continuing over fields and causing no further damage. By 6:49 PM, the tornado appeared as several writhing suction vortices rather than a solid wedge; two minutes later, it dissipated to the west of the unincorporated community of Bazaar.
The tornado was the longest-tracked, second-deadliest, and second-longest-duration of the outbreak, remaining on the ground for 48 minutes over a 38 mile path. A total of 11 fatalities and 203 injuries occurred; six of the fatalities were in the town of Cassoday itself. The tornado was rated as a very high-end EF3, with estimated wind speeds of 165 miles per hour. Notably, the tornado was the longest-tracked in the state of Kansas since 2015, as well as the deadliest in the state since 2007. Extensive measurements were taken by meteorologists along the tornado's path, making it one of the most heavily studied in recorded history.
Paris, Texas
EF5 tornado (NWS)
Duration
1244 CDT – 1329 CDT
Intensity
335 km/h (210 mph) (1-min)
A large and violent cone tornado caused severe damage in rural areas of far northern Texas in the early afternoon of June 12, earning a rating of EF5. While no cities and few towns were directly impacted by the tornado, it passed within 500 yards of the city of Paris while near peak strength. The greatest damage to buildings was rated mid-range EF4; the tornado received its EF5 rating based entirely on extreme vegetation damage. The tornado touched down at 12:44 PM CDT in rural Fannin County to the north of Honey Grove as a tall, narrow cylinder-shaped funnel. Its first damage was limited to wheat crop in a field, which was flattened. Trees at the edge of the field were pushed over and partially uprooted, and several utility poles in the area were snapped. A farmhouse just to the east of this point lost most of its roofing and an abandoned, wooden house nearby was partially demolished; suggesting that the tornado was rapidly intensifying. Mid-range EF2 damage was noted to several farmhouses near U.S. Route 82, one of which lost all of its roofing and one of its exterior walls.
The tornado expanded into a large and highly visible cone at 12:57 PM; roughly a minute later, the tornado passed over a small forest, partially debarking dozens of trees at EF3 strength and uprooting several. At 1:01 PM, a PDS Tornado Warning was issued for the city of Paris as the still-widening tornado approached. The tornado attained a peak width of 450 yards at 1:04 PM while simultaneously inflicting mid-range EF3 damage to a row of small, rural frame houses, which were mostly demolished; at one house, only two bathroom walls were left standing. An elderly woman was killed in the destruction of her home, and seven other people were injured. Consistent EF3 to EF4-level damage was noted over the next two miles of the tornado's track as it approached and passed near the northern outskirts of Paris; manufactured homes to the north of U.S. Route 82 were completely swept away; cars were tossed up to 160 yards, and several trees were completely debarked. The North Lamar High School and Campbell's Soup plant in northern Paris were severely damaged; while the Higgins Elementary School and Stillhouse Rehabilitation and Healthcare Center were demolished. Nearby houses were completely leveled, and some ground scouring occurred. Damage in and near Paris was rated mid-range EF4, with estimated wind speeds of 180 miles per hour. One patient at the Stillhouse clinic was killed as an exterior wall collapsed, and over 60 others in the city were injured.
Damage surveys revealed a clear strengthening trend as the tornado tracked eastward through northern Paris; at 1:13 PM, the tornado was nearing peak strength as it passed over rural areas. Just 500 yards east of Paris, "remarkable" vegetation damage began to occur. Grass and other low-growing plants were scoured from the ground along with up to five inches of topsoil beneath them. The tornado then passed over another forest, completely debarking hundreds of trees in its path and stripping many of their branches; several trees were reduced to debarked stumps, and one oak tree weighing roughly 35,000 pounds (15,875 kg) was uprooted and thrown 170 yards. Boulders up to 12 feet (3.65 m) in diameter were lifted from the ground and tossed as well. Past this point, the tornado crossed several farmers' fields, shredding wheat crop down to 1-inch (2.5 cm) stubble. At 1:17 PM, the tornado began to weaken; no additional vegetation scouring occurred, and trees along the edge of a road were toppled and only partially debarked, suggesting EF3 intensity. Crops in fields further to the east were flattened, beyond this point, a few frame houses sustained EF1 to low-end EF2-level damage before the tornado dissipated at 1:29 PM.
Remaining on the ground for a total of 45 minutes, the tornado caused two fatalities and 127 injuries over its 24-mile path. The tornado received a rating of EF5 based on vegetation damage and ground scouring to the east of Paris; making it the third tornado to be officially rated EF5 following the Enhanced Fujita scale rewrite, and the first to receive an EF5 rating based entirely on "unconventional" damage indicators. The greatest damage to buildings was rated mid-range EF4, with estimated wind speeds of 180 miles per hour. Also of note was the fact that the tornado only became violent during the final four miles of its path; the majority of violent tornadoes produce their greatest damage close to the beginning or middle of the path.
Granger, Texas
EF3 tornado (NWS)
Duration
1427 CDT – 1454 CDT
Intensity
220 km/h (140 mph) (1-min)
In the afternoon of June 12, a strong tornado cut directly through the northern portion of the city of Granger, Texas, resulting in significant damage and numerous injuries. The tornado touched down at 2:27 PM CDT on over a small forest to the northeast of Weir, snapping tree branches at EF0 intensity before continuing over empty fields. While initially appearing as a series of transient suction vortices, the tornado soon developed a highly visible condensation funnel. EF0 to EF1-level damage was noted as the tornado passed over a farm, damaging outbuildings and stripping the roofing from the farmhouse and several barns. The tornado narrowed from 400 yards to just over 250 yards in width at 2:35 PM; shortly afterward, a manufactured home was stripped of its roofing and several trees were snapped at low-end EF2 strength. A tractor-trailer was rolled from a highway past this point, and wooden utility poles were downed. The tornado left consistent EF2-level damage as it passed over a wood lot, then briefly attained EF3 strength, mostly demolishing a small inn and tossing parked cars nearby short distances. High-end EF1 damage was noted to a few rural frame houses less than 100 yards to the east, which lost most of their roofing, and numerous more trees were pushed over. A 21-year old man was severely injured as his pickup truck was pushed off of a nearby road, but survived. At 2:42 PM, the tornado rapidly reintensified. Several steel sheds and outbuildings were demolished at a propane plant at high-end EF2 strength and three people were injured; as the tornado crossed over another forest, thousands of trees were snapped or uprooted.
The tornado reattained EF3 strength at 2:44 PM, just before entering Granger itself. Hundreds of well-anchored houses were severely damaged, with roofs removed and exterior walls collapsed; a few were mostly demolished, with only portions of interior walls left standing. In a business district, several small stores and a Wendy's restaurant were demolished, while a strip mall lost the majority of its roofing and one of its exterior walls. A nearby Piggly Wiggly grocery store was stripped of its roofing, and parked cars in the store's parking lot were tossed up to 85 yards. Almost every building in the northern half of Granger was damaged, with over 100 buildings reported to be destroyed. 91 people were injured within Granger itself. After exiting Granger, the tornado maintained EF3 intensity for a short time, leveling and sweeping away several small manufactured homes near the edge of a forest. EF2-level tree damage was observed for an additional two miles through the forest, with numerous trees being snapped and several uprooted. The tornado gradually roped out beginning at 2:51 PM, while weakening to low-end EF1 strength; at 2:54 PM, the tornado dissipated.
While it did not cause any human fatalities, the tornado was responsible for over 300 injuries over the course of its path, and over 70 chickens and 120 cattle were killed. The tornado remained on the ground for 27 minutes over a 10-mile path, and was rated a low-end EF3, with estimated wind speeds of 140 miles per hour. The tornado was one of only two significant (EF2+) tornadoes to touch down on June 12, the other being the EF5-rated Paris, Texas tornado. The Granger tornado's parent supercell would produce two other tornadoes, later in the afternoon, both of which would be rated EF1.
Ad blocker interference detected!
Wikia is a free-to-use site that makes money from advertising. We have a modified experience for viewers using ad blockers

Wikia is not accessible if you've made further modifications. Remove the custom ad blocker rule(s) and the page will load as expected.