Confirmed
Total
Confirmed
EF0
Confirmed
EF1
Confirmed
EF2
Confirmed
EF3
Confirmed
EF4
Confirmed
EF5
68
26
18
12
8
3
1

On July 4 the NWS SPC highlighted a High Risk of Severe thunderstorms over Western Illinois in the 0600 outlook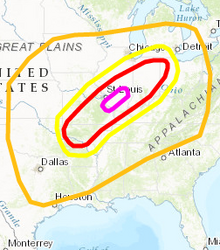 At around 4:05AM CDT weak supercells started to pop up over Northern Arkansas and Southern Missouri, around 4:50AM the "Tornado flare" started with very strong cells appearing across the Future High Risk, in the next outlook a High Risk was issued...a EF0 touched down near Saint Louis...the tornado strengthened to a EF1 and continued to the NE, around 5:05AM the Tornado hit Saint Louis at EF4 intensity, and weakened to a EF3 quickly...the tornado weakened to a EF2 causing extensive roof damage, the tornado continued to weaken to a EF1 around 5:20AM, and then a EF0 around 5:25AM, the tornado quickly grew back into a EF1 then became a waterspout at EF2 intensity, it damaged East St. Louis, Illinois as a EF3...but lifted at 5:35AM...the same cell that produced the Saint Louis tornado produced another EF2 in a field in Western Illinois that tore off the roof of a home, a tornado touched down in Rural Illinois a few minutes after the weather channel highlighted a "Greatest threat" region, the tornado grew into a EF1 tornado...a EF4 tornado touched down at 7:00AM in Western Indiana with it's own supercell thunderstorm...the tornado tracked 185 miles making it the longest tracked and longest lived tornado of the day, lifting at 10:07AM...the only EF5 tornado of the day touched down at 1:02PM during a small split of stable air...the tornado touched down and tracked towards NoJO's house as a EF2, but then moved just to the north of his house as a EF5, several homes were completely destroyed in his hometown...the EF5 tracked 170 miles and was on the ground from 1:02PM to 3:01PM...the tornado tracked to the northeast and damaged NoJO's current home...not his former home which it passed to the north of, the tornado continued to the northeast and finally lifted in Ohio...this is a wip...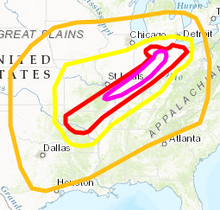 Ad blocker interference detected!
Wikia is a free-to-use site that makes money from advertising. We have a modified experience for viewers using ad blockers

Wikia is not accessible if you've made further modifications. Remove the custom ad blocker rule(s) and the page will load as expected.