St. Patricks Day 2015 Sun Prairie Tornado

Duration

7 Minutes

Time It Formed

4:59 PM (CST)

Time It Dissipated

5:06 PM (CST)

Fujita Scale Rating

EF2

Maximum Winds

115 mph

Path Length

9 miles

Maximum Width

45-65 yards

Place(s) impacted

Sun Prarie, Wisconsin

Damage Caused

$1,100,000 (2014 USD)

Fatalities Caused

One (1)
The St. Patricks Day 2015 Sun Prarie Tornado was a Rare Anticyclonic EF2 tornado that caused unexpectedly impacted Sun Prarie, Wisconsin on March 17th, 2015.
Prequel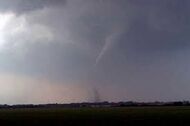 it had been a quiet start to the Week for Meteorologists, barely any storms were active across the US, and those that were active, only a few barely became severe in Oregon and Washington States, but no tornadoes were reported from them.
Until About 11:45 AM on St. Patricks Day, When Local Meteorologists began to monitor a new area of Weak Severe Storms moving North-West from Chicago, Illinois.
And about half an hour or so after the storm complex formed, a weak Funnel was Reported on the Beaches of Lake Michigan. The First reported one in Three Days.
Afterwards, some of the storms weakened, with some storms staying the same and one particular cell slowly organizing and strengthening.
The Event
At 3:00 PM, whilst most of the storms in the Complex had either Weakened or Dissipated, One continued North-West, barely maintaining strength and structural integrity.
And this cell briefly produced a Weak EF0 Tornado East-Southeast of Madison, Wisconsin at about 3:11 PM.
The Storm briefly weakened before Re-strengthening as it began to Enter Sun Prairie, Wisconsin at 4:00 PM, and Spotters began to report an area of Anticyclonic Rotation on the Storm.
And for the next Twenty Minutes to half hour, the storm produced intermittent funnels, before they stopped again.
Finally at just before 5:00 PM, spotters witnessed the Formation of an Anticyclonic Tornado. The was the first time since 2014 that an Anticylonic tornado had formed anywhere in the US.
The Tornado tore through small neighborhoods, causing some damage as it did, and Killing One when it caused destruction in a trailer park.
Impacts
Ad blocker interference detected!
Wikia is a free-to-use site that makes money from advertising. We have a modified experience for viewers using ad blockers

Wikia is not accessible if you've made further modifications. Remove the custom ad blocker rule(s) and the page will load as expected.