May 3-4, 2019 Great Lakes tornado outbreak

Tornado damage just outside of Wabash, Indiana.
Date of tornado outbreak:
May 3-4, 2019
Duration1:
1 day, 19 hours, 46 minutes
Maximum rated tornado2:
EF5 tornado
Tornadoes caused:
66 total
Total Damages:
$3.8 billion (2019 USD)
Total Fatalities:
93 total
Areas Affected:
Great Lakes, Indiana, Michigan, Ontario, and Ohio.

1Time from first tornado to last tornado
2Most severe tornado damage; see wikipedia:Enhanced Fujita Scale
The May 3-4, 2019 Great Lakes tornado outbreak was a catastrophic tornado outbreak that occurred in the states of Michigan, Indiana, Ontario, and Ohio. The tornado produced the northernmost EF5 tornado on record in Indiana's history. The northernmost EF4 tornado in Ohio was also recorded.
Synopsis
On April 30, the SPC (Storm Prediction Center) issued a slight risk in the states of Michigan, Indiana, and Ohio. Environment Canada did the same and put out a moderate risk for tornadoes in southwestern Ontario. This was raised over the following days, and on May 2, a high risk was issued for Northern and Central Indiana, extending into western Ohio. The system that produced the tornadoes moved onto the Californian coast on April 30. The low-pressure system had a peak pressure of 966 millibars while it was over the Rocky Mountains on May 1.
The system was responsible for blizzard conditions in Colorado and Wyoming, and a record of 53.6" of snow for May was recorded near Boulder, Colorado. The system transitioned into a severe weather system as it was over Illinois, however, there were no tornado touchdowns there. The system moved into Michigan and produced eight tornadoes, including an EF2 tornado that struck Hastings, the strongest since 2012. The system also produced a tornado in the Dearborn and Detroit areas, where many abandoned buildings were destroyed, only receiving an EF0 rating because the buildings were already caving in. The system then moved into Indiana and Ontario, where in Ontario, an EF3 tornado touched down near Petrolia, injuring four people. The first tornado touched down in Indiana late in the day on May 3, and the tornado was rated EF4. The tornado was the strongest in the state since the Henryville tornado on March 2, 2012.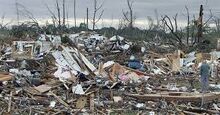 A few more tornadoes touched down, including an EF3 tornado that touched down in South Bend. The tornado damaged much of Notre Dame University, and one person was killed there. Another devastating tornado struck Carmel, damaging 150 homes and businesses, injuring 60 people. Another strong tornado struck the Tipton area, injuring 30 people and caught many people off guard as it happened very late at night. Another tornado, rated EF2, damaged a good portion of the town of Fairmount. Then, an EF4 tornado struck Muncie, killing two people and injuring numerous people. The strongest tornado of the outbreak happened shortly after, rated EF5, and killed 65 people in the cities of Peru and Wabash, Indiana. The final two tornadoes of the night occurred in Blackford County, striking the towns of Hartford City and Montpelier. On May 4, the day started out with a few tornadoes in Indiana, which soon became many. Three EF4 tornadoes touched down, the most in a single day since June 2, 1990, when more than five touched down or tracked through the state.
An EF4 tornado struck Toledo, killing 20 people, and was the northernmost violent tornado in Ohio on record, beating the previous record of the Albion, Pennsylvania tornado in 1985, which originally touched down in Ohio. Another tornado, an EF3 tornado, touched down near Washington Court House, killing one person. An EF4 tornado touched down in Lima, killing three people. The system produced the final violent tornado of the outbreak in the cities of Bedford and Seymour, Indiana, killing one person. The system stopped producing tornadoes late on May 4, and moved into New England, with gusts up to 85-90 mph reported in New York, Massachusetts, and Maine. A peak non-tornadic wind gust of 91 mph was recorded near Worcester, Massachusetts. Hail was also reported in those areas, but no tornadoes were produced. On May 6, the system moved up the coast of Atlantic Canada, producing a snow/rain mix in Newfoundland and Labrador, Nova Scotia, and parts of Quebec, and New Brunswick. Icy conditions on roads led to several fatal accidents in Montreal and Hailfax. Strong winds off of the coast of Newfoundland and Labrador sank a cargo ship, but no fatalities were reported with that incident. A pileup occurred in Ottawa, killing eight people and injuring at least 50.
Notable tornadoes
Peru/Wabash, Indiana
EF5 tornado (NWS)
Duration
2317 UTC, May 3 – 0001 UTC, May 4
Intensity
455 km/h (280 mph) (1-min)
At about 2317 UTC on May 3, a violent rain-wrapped tornado touched down two miles northwest of Walton, Indiana. The tornado began to move east-northeast, barreling straight towards Peru. The tornado reportedly leveled a farm and toppled over windmills near the community of Nead. The tornado was captured on camera as it neared the city of Peru. It was nearly two miles wide, which is very uncommon for tornadoes in the region of the Great Lakes. The tornado flattened homes just before entering the city limits of Peru. The tornado entered Peru at 2332 UTC, sweeping homes off of their foundations, and at least 28 peopled died in Peru, most of them were caught by surprise when the tornado destroyed their homes. One of the victims was a national story, where a nine-year-old girl and her thirty-three-year-old father tried to keep the brick wall of their home off of the girl's pregnant mother. After being hit by too much debris, both the girl and father died, just so that the girl's mother could live. The tornado produced its first visible EF5 damage in Peru when a mansion was obliterated, and the only remains left were the concrete blocks of the foundation. The tornado also completely destroyed other homes in the area. A total of 400 homes and businesses were destroyed in the city of Peru. The tornado exited Peru at 2339 UTC, and soon was seen barreling towards Wabash on radar. The tornado formed a very well-defined hook echo. A group of storm chasers were located along State Road 115, and recorded winds of 280 mph, one of the highest from a tornado on record. The tornado soon entered Wabash at 2354 UTC. The tornado killed a total of 34 people in Wabash, mainly from the unknown strength of the storm. Since most tornadoes are weak in Northern Indiana, (with an exception of the 1965 Palm Sunday tornado outbreak), many were killed from the fierce destruction. The storm began to weaken while in Wabash, and began to produce EF3-EF4 damage, which is still uncommon for Northern Indiana. The tornado swept away, flattened, or leveled over 450 buildings in Wabash, about 50% of the town. The tornado finally weakened and lifted north of Andrew at 0001 UTC May 4. Overall, the tornado caused $500 million in damages and killed 65 people, the second-highest death toll form a single tornado in Indiana, only falling short to the Tri-State Tornado in 1925.
Toledo, Ohio
EF4 tornado (NWS)
Duration
0633 UTC, May 4 – 0648 UTC, May 4
Intensity
280 km/h (175 mph) (1-min)
In the early morning hours of May 4, a tornado touched down in the suburbs of Toledo. The tornado rapidly strengthened, destroying and leveling several homes in the suburbs. Just outside of downtown, the tornado killed four people at a factory when it was completely leveled and exploded. The explosion sent nuclear gases into a 50 mile radius, with the contamination zone ending at Fort Wayne, Indiana. The explosion also forced evacuations rather than cleanups the day after the tornado. The tornado claimed the most victims in downtown, when skyscrapers that were designed to withstand tornadoes, were heavily damaged to the point that the buildings could have possibly fell. The tornado killed 14 people in downtown, upping the death toll to 18 at the time. The tornado rapidly dissipated and lifted after affecting downtown, and in the process, the tornado claimed its final victim, upping the overall total to 20. The governor of Ohio declared a state of emergency in response to the devastating tornado.
Bedford/Seymour/North Vernon, Indiana
EF4 tornado (NWS)
Duration
2303 UTC, May 4 – 2345 UTC, May 4
Intensity
315 km/h (195 mph) (1-min)
In the evening of May 4, just as severe weather was calming down, a violent tornado touched down west of Coxton. The tornado tracked to the east-northeast, tracking towards southern Bedford. The tornado hit Bedford around dinner time for most people, sending many people starving to the cold basement as the power went out. The tornado produced high-end EF3 damage, destroying well-built homes, only leaving inner walls standing. A movie theatre was destroyed during the tornado, nobody was injured inside of the building. An Arby's restaurant was destroyed off of Highway 37, only injuring one person. More than 5,000 people were without power in Bedford after the tornado. In nearby Mitchell, a checkbook was found in the middle of the street and was returned to its owner. A woman went missing after the tornado but was found unharmed with her child, who only sustained a minor bruise. The tornado moved out of Bedford and over rural land for at least 20 miles. A tornado emergency was issued in Bedford as the storm was approaching Seymour. The city of Seymour had been under a tornado watch for at least an hour-and-a-half. The tornado struck Seymour, killing one person, producing EF4 damage. The tornado was the strongest since June 2, 1990 in that area. The tornado destroyed at least 60 homes and businesses in Seymour, as it tracked directly through the heart of Seymour. The tornado injured as many as 60 people in Seymour alone, as Seymour also declared a tornado emergency. The tornado exited Seymour and dissipated as it hit North Vernon. Only EF1 damage was reported in North Vernon. Overall, the tornado was rated EF4 and killed one person. Another 80 people were injured.
Tornadoes
Confirmed
Total
Confirmed
EF0
Confirmed
EF1
Confirmed
EF2
Confirmed
EF3
Confirmed
EF4
Confirmed
EF5
66
21
15
15
7
7
1
May 3 event
List of confirmed tornadoes - May 3, 2019

EF#

Location

Duration (UTC)

Description

Michigan
EF0
S of Alto
0318-0320
A house sustained minor damage.
EF0
SSW of Alto
0324-0325
A very brief tornado downed fences and uprooted 15-20 trees. This was the second tornado in the Alto tornado family.
EF2
Hastings
0442-0449
A tornado took the roofs of several homes in the early morning hours of May 3. This was the strongest tornado in Southern Michigan since March 15, 2012, when a large EF3 tornado struck Dexter.
EF1
S of Ann Arbor
0458-0501
A brief, weak tornado touched down, damaging at least 25-30 homes in a subdivision.
EF0
NNE of Napoleon
0518-0519
EF0
W of Brooklyn
0606-0607
A farm sustained minor damage to gutters, siding, and shingles.
EF0
N of Brooklyn
0654-0656
Trees were downed, shingles were blown off a roof, a shed was destroyed, and a car was flipped.
EF0
Dearborn/Detroit
0830-0834
A tornado touched down in the eastern portion of the Detroit suburb of Dearborn. The tornado damaged over 45 homes in the area, including 15 outbuildings. The tornado then went into Detroit, destroying abandoned homes that were falling apart, disputing its original EF3 rating. A home that sustained major roof damage was determined as an engineering error, disputing its ranking higher than EF0. It is unknown if the tornado was stronger than the given EF0 rating.
Ontario
EF3
E of Petrolia
1614-1618
A strong but brief tornado destroyed three well-built homes. Only interior walls were left standing, injuring four people.
Indiana
EF4
N of Reynolds to ESE of Monon
2122-2136
Large wedge tornado heavily damaged one house, damaged several others, and obliterated grain bins and farm buildings. Several metal high tension power line trusses were flattened, one of which was torn from its concrete supports and thrown. Vehicles and farm equipment were thrown hundreds of feet and destroyed, and two large storage garages were cleanly swept from their foundations. Trees were completely debarked, with sheet metal wrapped around them. One radio tower was blown down as well.
EF1
SW of La Porte
2142-2144
Several barns were destroyed and many grain bins were thrown.
EF0
S of La Porte
2149-2150
Brief tornado touchdown with no damage.
EF3
South Bend
2155-2210
1 death - A tornado touched downtown South Bend, moving in an east-northeasterly direction. The tornado destroyed at least 50 homes and businesses before moving over the campus of Notre Dame University, where one student was killed in his dormitory. The tornado then moved across several subdivisions, injuring at least 24 people before lifting.
EF2
Carmel
2209-2215
A tornado touched down in the Carmel vicinity, damaging or destroying at least 150 homes and businesses. At least 60 people were injured, some were critical.
EF1
N of Mulberry
2119-2121
One mobile home was destroyed while another was severely damaged. Trees were damaged.
EF0
NNW of Michigantown
2200-2201
The roof of a metal barn and several calf weaning huts were damaged.
EF0
SE of Atlanta
2209-2210
Several roofs and wooden fences were damaged.
EF3
Tipton
2234-2239
A tornado struck Tipton, injuring 30 people and caught many people off guard as it happened very late at night. The tornado destroyed one house, and a bus landed on it. Another house, next to it, was not as badly affected by the tornado. The tornado injured 16 people in a club when a wall fell on some of the people taking cover. At least 1,200 people lost their homes in Tipton, and the Red Cross was set up at one of the churches in Tipton.
EF2
Atlanta to NE of Fairmount
2246-2316
A tornado touched down in Atlanta late at night. Five homes were destroyed, including three mobile homes, and dozens of other structures sustained varying degree of damage in Atlanta. The tornado moved out of the area and stayed over open land. At one farm, a barn collapsed and a tractor, several trees and power lines were damaged. The tornado entered the northwest side of Fairmount, damaging at least 15-20 homes, injuring six people. The tornado destroyed a poorly-built house, downgrading its previous EF3 rating. The tornado was responsible for at least $950,000 (2019 USD) in damages.
EF4
N of Anderson to Muncie to SSW of Ridgeville
2315-2347
2 deaths - A tornado touched down to the north of Anderson, where many people panicked as the tornado sirens went off. Radar at first indicated that the tornado was barreling straight towards Anderson, which most of the panic was about. The tornado-warned storm luckily dodged to the north and produced a tornado north of Anderson. The tornado swept away several farms, and debris was found to be more than 50 miles away from the locations. In Van Wert, Ohio, a lost checkbook was found at a farm and was sent back to the owner. The tornado moved into northern Muncie, where both fatalities occurred. The tornado completely destroyed several buildings on the Ball State University campus, where one college student was killed while taking shelter. The tornado then completely swept away more than 100 homes, killing another person while trying to outrun the tornado. At least 88 people were injured in one neighborhood, where more than 150 homes were swept away. Most meteorologists were confused as to why a violent tornado ripping through a large city didn't seriously hurt very many people. The tornado was rated high-end EF4, but could have been an EF5 tornado. The tornado stayed over rural land for the last part of its life, not even touching a single farmhouse. The tornado finally lifted south-southwest of Ridgeville.
EF5
NW of Walton to N of Andrew
2317-0001
65 deaths - See section on this tornado.
EF2
Hartford City
2353-2358
About 40 houses were damaged, some significantly. Two people were injured, one critically.
EF2
Montpelier
2359-0010
A total of 150 homes suffered damage, including one that lost its entire roof and a portion of its exterior walls. Several sheds and outbuildings sustained extensive damage, a small church was destroyed, and several large trees were uprooted. One injury was reported.
May 4 event
List of confirmed tornadoes - May 4, 2019

EF#

Location

Duration (UTC)

Description

Indiana
EF2
Speedway
0016-0022
A tornado touched down in Speedway, striking the famous Indianapolis Motor Speedway. One of the garages, where the cars were being stored was destroyed, damaging most of the cars. The famous Gasoline Alley was heavily damaged by the tornado also. The tornado tore roofs off of homes around the racetrack and injured only three people.
EF2
E of Cincinnati
0451-0456
Power lines, power poles and trees were knocked down.
EF1
Eastern Bloomington
0826-0828
A tornado struck the College Mall, damaging roof panels and breaking glass windows. One person was injured when their car was overturned by the force of the wind. The tornado then damaged at least 15 homes before lifting.
EF3
SE of Fairland to N of Shelbyville
1126-1136
Large wedge tornado resulted in major damage to farms southeast of Fairland. A trailer park was hard hit where several manufactured homes were flattened, and several injuries occurred there. A large well-built church was also destroyed. A warehouse and a radio tower also sustained major damage and extensive tree damage was reported. The tornado lifted after destroying at least 60 structures.
EF0
ENE of Silverville
1315-1317
Six mobile homes were damaged or destroyed.
EF0
S of Fayetteville
1328-1333
The roof was removed from a larger sized metal garage, with a supporting post snapped and one side of the building blown inward. Metal doors on the opposite side were blown outward, a smaller garage sustained major door damage, and a large section of metal and wood roofing was removed from a large barn, with debris being scattered 0.25 miles (0.40 km) downwind. Four pieces of debris were impaled in the ground. Also, a smaller storage shed lost its door, minor roof damage was observed on the corner of one house, and five trees were downed.
EF1
W of Westport (1st tornado)
1452-1455
A large barn used for boat storage had its roof lifted off and thrown approximately 90 yards (82 m), a second storage shed was destroyed, and a house had its windows blown out.
EF1
W of Westport (2nd tornado)
1454-1456
A second tornado touched down, damaging three homes.
EF1
WSW of Liberty
1534-1537
Minor damage to four houses and the roof was torn off of a metal storage building.
EF4
N of Cicero, IN to NNE of Fort Recovery, OH
1542-1638
One house was flattened by the tornado and swept off its foundation. A combine, estimated at 30,000 pounds (14,000 kg) was tossed roughly 100 yards (91 m) as well and many trees were debarked. A house was swept off of its foundation, a gravel road was scoured and dug out at a depth of around 4 inches (10 cm), and trees were shredded and debarked in Redkey The tornado entered Ohio without causing any major damage.
EF2
S of Marion
1603-1607
One mobile home was destroyed and a few others were heavily damaged. A radio tower and multiple power poles were snapped. Several sheds and a grain silo were destroyed.
EF1
SSW of Beanblossom
1634-1638
A tornado damaged farm outbuildings and trees as it tracked through northern Brown County.
EF1
W of Martinsville
1645-1648
A tornado hit a mobile home park, destroying at least five mobile homes and damaging numerous others.
EF1
WSW of Fair Oaks
1651-1653
Two homes and an elementary school sustained minor roof damage, and several trees were downed, one of which fell on a house.
EF2
SE of Fair Oaks
1703-1708
Several mobile homes were impacted near Fair Oaks, with one being rolled 45 to 50 yards (41 to 46 m) and mostly destroyed and a second one being shifted about 10 feet (3.0 m) off its foundation. A carport and farm equipment were partially destroyed, and a small car was lifted and had its front bumper torn off. To the northeast, a couple houses suffered minor roof and siding damage, a few more homes sustained minor structural damage, and several headstones were either pushed over or broken at a cemetery. Further along, multiple sheds were destroyed, shingles were torn off two homes, and a double-wide mobile home was pushed off its piers and sustained roof damage. Many trees were downed along the path, with some falling on a few homes.
EF0
S of Fair Oaks
1704-1705
Homes sustained roof, siding, and garage door damage with debris scattered up to 500 yards away. Several trees were downed as well.
EF2
North Madison
1707-1709
Many homes, barns, and a church were damaged, some heavily, and a doughnut shop was destroyed. Numerous mobile home units were destroyed, resulting in one fatality. Numerous trees and power lines were downed along the path, and 30 people were injured. Strong straight-line winds (up to 100 mph) accompanied the tornado, resulting in more damage to structures (including a gymnasium).
EF0
E of Rensselaer (1st tornado)
1712-1714
A barn was destroyed, the roof of a house was damaged, and several large tree limbs were snapped.
EF0
E of Rensselaer (2nd tornado)
1713-1715
Two outbuildings were severely damaged, and three houses sustained shingle damage.
EF2
E of Rensselaer (3rd tornado)
1717-1720
What was left of a barn was completely blown away, and a house that was damaged by the first tornado caved in.
EF1
SSE of Delphi
1728-1730
Several large trees were snapped or uprooted, and several light poles were downed, damaging vehicles and the roofs of homes.
EF1
WNW of Logansport
1734-1736
Several large trees were snapped or uprooted, and several light poles were downed, damaging vehicles and the roofs of homes.
EF1
Taylorsville
1739-1743
Numerous homes and other buildings sustained minor to moderate roof and structural damage, although one home had nearly its entire roof removed. A small outbuilding was damaged, and an anchored outbuilding was destroyed as well. Many trees were downed, and a power pole was snapped.
EF0
Taylorsville
1739-1743
Numerous homes and other buildings sustained minor to moderate roof and structural damage, although one home had nearly its entire roof removed. A small outbuilding was damaged, and an anchored outbuilding was destroyed as well. Many trees were downed, and a power pole was snapped.
EF4
SSE of Hope to N of Greensburg
1753-1812
This violent wedge tornado ripped a large metal TVA transmission tower from its concrete footings. It moved through rural farmland, where several homes were swept away along a near mile-wide path. Several other electrical transmission towers were also destroyed along the path before the tornado lifted north of Greensburg.
EF2
E of Bath, IN to N of Oxford, OH
2246-2250
Significant tree damage and some structural damage was observed. A barn was destroyed.
EF4
W of Coxton to North Vernon
2303-2345
1 death - See section on this tornado.
EF0
WNW of Richmond
2338-2339
Several trees were snapped or stripped of limbs, shingle damage occurred, two small awnings were twisted and downed, and several fences were damaged.
Ohio
EF0
N of Piqua
0237-0239
Trained storm spotters videoed a brief tornado.
EF4
Toledo
0633-0648
20 deaths - See section on this tornado.
EF3
NNE of Washington Court House
1526-1532
1 death - A high-end EF3 tornado completely destroyed a well-built home, killing one person inside. The tornado also either downed or uprooted numerous trees. The tornado destroyed at least 20 homes, injuring 17 people.
EF3
N of Springfield
1538-1545
A well-constructed home had its roof completely destroyed and multiple exterior walls collapsed, and two other homes had large sections of their roofs removed. An oil pumpjack was overturned, a car was thrown 100 yards (91 m), and another car was moved several feet. Two poles were bent, wooden power poles were snapped, and a small barn suffered major loss of roof panels. Trees were damaged along the path as well, with trees partially debarked, trunks snapped, and trees uprooted.
EF2
WSW of Urbana
1538-1545
Eight to ten power poles were snapped and several large trees were heavily damaged.
EF2
Urbana
1555-1559
A tornado struck Urbana, destroying a single-wide mobile home before entering the city limits. The tornado damaged or destroyed more than 50 homes and businesses in the city of Urbana.
EF2
Upper Sandusky
1623-1625
A mobile home was separated from its undercarriage and completely destroyed, and other homes and mobile homes sustained roof and window damage. Numerous trees and power poles were snapped and along the path.
EF1
SW of Grove City
1635-1636
A tornado touched down, snapping and uprooting trees. One house was shifted off its foundation but suffered only minor roof damage. A wooden barn was heavily damaged as well. Several trailers were damaged with one losing its roof and a portion of its exterior walls, and another losing most of its roof and carport. A two-story house lost part of its roof covering.
EF0
NNW of Anna
1641-1642
Tornado caused minor damage to homes, farm buildings, and trees.
EF0
S of Anna
1645-1646
Brief anticyclonic tornado remained over open fields with no damage.
EF3
SSE of Sidney to NE of Bellefontaine
1721-1746
Widepread damage occurred as a result of this very large wedge tornado, which was over a mile wide at times. One house was completely destroyed near the beginning of the path. Near Bellefontaine, two brick homes were destroyed with only some interior walls left standing. The tornado struck the town of De Graff, where nearly every structure in town sustained some type of damage, ranging from minor to significant. Garages and outbuildings were destroyed throughout the town, and multiple homes had their roofs torn off, a few of which sustained collapse of exterior walls. Irrigation pivots were overturned and twisted, outbuildings and grain bins were destroyed, and numerous trees and power poles were snapped along the path.
EF0
NW of De Graff
1645-1646
Satellite tornado moved southwest and merged with the main De Graff/Bellefontaine EF3 tornado, causing no damage.
EF0
Wapakoneta
1650-1651
A tornado moved into the city of Wapakoneta, damaging at least 15 homes along a intermittent, thin path. The tornado downed many trees throughout town and was accompanied by strong, straight-line winds.
EF4
Lima
1659-1714
3 deaths - A violent, wedge tornado struck Lima during the afternoon/evening hours. The tornado either flattened or swept away 100-200 homes and businesses throughout the town. The tornado killed two people in their permanent residence when their house was completely obliterated. The house was poorly-built, which limited the rating to go any higher than EF4. The tornado had winds measure up to 195 mph while it was in Lima. Another fatality occurred when the tornado threw a vehicle more than four miles away from its original location and killed the person inside. The tornado was the strongest in Ohio's history since the 1985 Niles, Ohio tornado, which was rated F5. The tornado lifted just three miles outside of the city limits.
EF1
S of Wilmington
2216-2218
Tornado completely destroyed several outbuildings and damaged the roof of a house at a farmstead. Trees were snapped and a hay bale was thrown nearly one half-mile.
Ad blocker interference detected!
Wikia is a free-to-use site that makes money from advertising. We have a modified experience for viewers using ad blockers

Wikia is not accessible if you've made further modifications. Remove the custom ad blocker rule(s) and the page will load as expected.