May 1st-12th, 2018 Tornado Outbreak Sequence (AtWW)

The disastrous Houston tornado as it tore a path straight for the city.
Date of tornado outbreak:
May 1st - Ongoing
Duration1:
4 days +
Maximum rated tornado2:
EF5 tornado
Tornadoes caused:
1,000+
Total Damages:
~$23 Billion
Total Fatalities:
3,000+
Areas Affected:
WY, CO, UT, NM, SD, ND, NE, KS, OK, TX, AR, LA, MO, IA, MN, WI, MI, IN, OH, WV, VA, NC, SC, GA, AL, MS, FL, TN, IL, PA, NJ, NY, MD, MA, CT, ME


Canada
Mexico

1Time from first tornado to last tornado
2Most severe tornado damage; see wikipedia:Enhanced Fujita Scale
 The May 1st-12th 2018 Tornado Outbreak Sequence was a violent and deadly outbreak that affected 36 states and killed over 4,000. 
This event is defined by three major outbreaks that ocurred back to back to back with tornadic activity virtually unbroken throughout all 12 days of the event. The first event alone produced nearly 3,000 tornadoes, 33 of which were very long-tracked EF5s. 
Most of the tornadoes formed on May 2nd-4th during a three day streak of HIGH Risk days. On May 2nd alone there were 1,033 tornadoes, much more double that of the 2011 Super Outbreak. This day saw 35 EF4 and EF5 tornadoes, surpassing the record of 1974's 30. This day also saw the highest death toll, with more than 4,000 deaths, of which 2,478 of those came from a long tracked and exceptionally violent EF5 that struck the Houston Metropolitan area and Pasadena suburbs, the deadliest and costliest tornado in history. 
Note: Due to the incredible amount of strong and violent tornadoes, the number of EF0s present has been widely debtated. While the values below are final, they may not actually represent how many there were on those days as these tornadoes are very weak and tend to not leave any real obvious damage paths. That, coupled with the amouth of significant tornadoes, has obscured the paths of what could possibly have been hundreds more that will forever remain unknown.
Meterological Synopsis
Confirmed
Total
Confirmed
EF0
Confirmed
EF1
Confirmed
EF2
Confirmed
EF3
Confirmed
EF4
Confirmed
EF5
2,461+
Unknown
621+
435+
438+
94
54
 The previous month of April had been rather quiet due to a powerful La Nina present during most of the month. Only 75 tornadoes were reported, and 56 were confirmed. Both January and February had not a single confirmed tornado, and March only 14. It was looking to be a very quiet year by this point. Then, starting mid-April, the La Nina had dissipated. As a result, towards the end of the month there was a small outbreak of 31 tornadoes, all relatively weak. However, due to the pattern change, there was a sudden heat wave for a few days at the end of the month where several locations saw temperatures well in excess of 100 degrees. At the same time, a powerful High Pressure system was pouring dense amounts of moisture into Gulf states and Southeast. CAPE values were as high as 10000 J/kg in some places, with values of 6000 J/kg as far north as Minnesota. This created extreme instability, but due to the lack of shear, were rather scattered, with some isolated tornadoes.
The Super Outbreak
May 1st
Confirmed
Total
Confirmed
EF0
Confirmed
EF1
Confirmed
EF2
Confirmed
EF3
Confirmed
EF4
Confirmed
EF5
122
43
45
21
13
0
0
Main article: May 1-4, 2018 Super Outbreak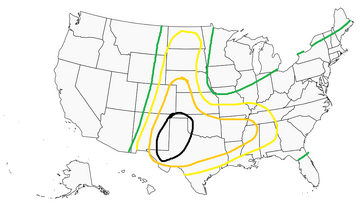 On April 28th, a deep trough dove out of the north with a steep positive tilt, and by the morning of May 1st, it had made its way into the rockies, with a strong upperlevel jet screaming across Utah, Wyoming, Colorado, and New Mexico. While there wasn't any violent tornadoes this day, there were 122 Weak to strong tornadoes, with 13 confirmed EF3 tornadoes that collectively only resulted in one death. The lack of turning in the atmosphere made the chance for long lived and violent tornadoes enhanced, but not significant. While there were many tornadoes, the main threat ended up being massive hail and flooding as storms had stalled in the mountains, dropping excessive amounts of rain before waning away. Overall 34 people died as a result of flooding in Utah and Colorado, an one person died as a result of being caught in a violent hail storm, the first death by hail since 2000. On the evening of May 1st, the SPC upgraded the risks for the next couple days to Moderate, as the Jet was expected to dive even further south by the morning May 2nd stall out for a day or so.
May 2nd
Confirmed
Total
Confirmed
EF0
Confirmed
EF1
Confirmed
EF2
Confirmed
EF3
Confirmed
EF4
Confirmed
EF5
1,033
176
319
237
279
12
23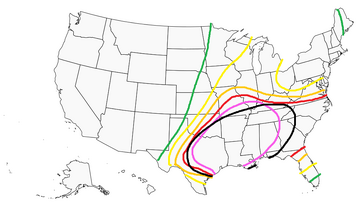 On the morning of May 2nd, a HIGH Risk was issued for a massive area that included all of East Texas, Arkansas, Most of Louisiana and Mississippi, Southeastern Oklahoma, Southern Missouri, much of Tennessee, and parts of Illinois, Indiana, and Georgia. This was due to the unprecedented intensification of the Jet stream over the Southeast, with speeds of 150 to 200 MPH. CAPE values in the morning of May 2nd were also extreme, with values in Southeastern Texas ranging from 5500 J/kg and 6000 J/kg. A widespread serial Derecho event was expected in combination with a significant outbreak of tornadoes. By the afternoon, however, Derecho development had remained lacking. During the morning a capping inversion had swept in over much of the area as a result fo overnight storms. However the capping was full of Altocumulus, which meant there was plenty of susnshine to continue with daytime heating, and that the atmostphere was a powder keg, ready to explode. At 17:16 UTC, storms began to explode over Arkansas, 3 of which converged into a 2 mile wide EF5 that tore through the heart of Vilonia, Arkansas, killing 115.Due to the power of the jet stream, storms were moving at or greater than 70 mph, with little warning as Tornadoes spun up rapidly and arrived before everyone could get to shelter.
As storms exploded in Arkansas, storms then began to explode over Mississippi and Alabama as well as Texas. Supercells quickly overwhelmed the radar, and NWS stations were in a rush to get every alert out as quickly as possible. By 18:00 UTC, over 200 tornado warnings had been issued, included 58 tornado emergencies. Violent tornadoes ripped through various populated locations, including Memphis and Nashville, TN, as well as Birmingham and Tuscaloosa, AL, Little Rock AR, Alexandria LA, and Jackson, MS. One exceptionally long-tracked tornado traveled 237 miles through Texas, Louisiana, and Mississippi, killing 204. Well over a million people in the Southeast were without power as a result of the early afternoon storms. Storm spotters were scattered and scurrying about, trying to get the word out to save as many lives as possible. Even as the storms rolled on, people dug their ways through rubble to help a friend. Things then quieted down for a little bit. At peak the early afternoon had 217 active Tornado warnings. Of these, 204 of them were confirmed, with 22 of them rated at EF4 or higher. The lull was not to last, however.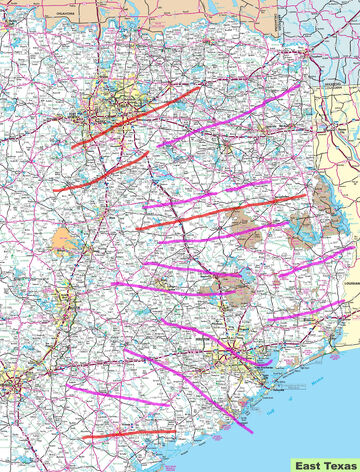 At 19:15 UTC storms fired up again in Texas, this time deeper into the state, just east of Austin. A Quasi-linear system of embedded, violent supercells exploded, and by 19:45 had reached severe status and eleven tornado warnings had already been issued. While storms may have still be going further to the east, spotters raced to meet up with what was pottentially the strongest storm of the day. A massive and powerful rotation was indicated on radar, and had yet to tighten into a significant TVS. At 20: 33 UTC, spotters in the area reported a massive, low,  rotating base. The motion was fast and violent, and ten minutes later, large funnels quickly spun up underneath, dancing around a singular, massive rotation. At time the wall cloud itself reached so low as to touch the ground. Fearing that this may be another El Reno type monster, chasers were ever cautious around it. At 20:43 UTC, chasers reported violent circulation on the ground. As the circulation passed over a house, the house was completely obliterated. All 5 members of the family inside were killed; flung from the house, and left unrecognizable.
Survey found that the house had a shelter, but due to the lack of a condensation funnel, the family likely never knew it was coming. At 20:50 UTC the entire base lowered to the ground, hiding the large and violent sub-vorticies that lay beneath. The tornado tracked ESE for 67 miles, before arching SE into the Houston Metropolitan area, it continued SE through Houston and Pasadena, before entering the bay to the SE of Seabrook and taking a hard right turn over the water, eventually dissipating before reaching Beumont at 22:56 UTC. The Tornado claimed 2,478 lives after traveling 104 miles from NE of Brenham to Seabrook, SE of Pasadena. It did $17.89 Billion USD in damages, making it the deadliest and costliest tornado in history.
For the remainder of the afternoon into the evening, supercells continued to develop until they conglomerated into a massive quasi-linear convective system, producing hundreds of tornadoes into the early morning hours of May 3rd. On May 2nd alone, 1,567 Tornado warnings and 2,241 Severe T-Storm warnings were issued and 3,243 people were killed. However, the Tornado rampage was far from over.
May 3rd
Confirmed
Total
Confirmed
EF0
Confirmed
EF1
Confirmed
EF2
Confirmed
EF3
Confirmed
EF4
Confirmed
EF5
773
381
153
96
87
8
7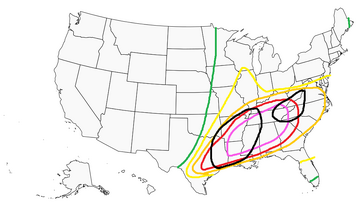 Into the early hours of May 3rd, a powerful QLCS sweeped its way across the southeast, knocking out power to those who still had it, and produced large amounts of flooding in Tennessee and Alabama. By 10:00 UTC, it had moved through North Carolina and Virginia, producing several weak to strong tornadoes in the process, including an masive 2.3 mile wide EF3 that went through downtown Raleigh. This tornado did considerable damage to the city center, destroying some small stores and heavily damaging larger structures. As it reached the Northeastern suburbs, it destroyed several dozen houses and severely damaged hundreds others. Damage in this area was originally disputed as EF4, but contextual damage didn't support this rating, and the houses that had been destroyed completely were found to have suffered mostly by being pulverized by other flying debris rather than the winds itself.
At 12:00 UTC, due to the cooling from the long lived and long track QLCS, instability had fallen enough for the SPC to decrease the area of the original risk, and a capping inversion full of altocumulus was present over much of the risk area. While CAPE was still in the 3000 J/kg range, this was significantly less than yesterday, where someplaces had CAPE values of 9500 J/kg. Despite this, a HIGH Risk was still present as the jet stream has slowed to a crawl due to a blocking HIGH in the Atlantic. Because of this, winds in the jet had strengthened from yesterday, with the WSW - ENE corridor of Northern AL, MS, and GA directly in the path of the jet, as well as eastern parts of TN being affected as well. As such the surface LOWs present with the system deepened considerably. This increased the difference between surface winds and mid-level winds to be close to 100 mph.
This lull in activity continued into the mid-afternoon as daytime heating was doing its work. Places such a Birmingham were seeing temperatures in the 90s, with dewpoints in the 80s. CAPE over the SE had risen back to 4500 J/kg to 5500 J/kg as a result of the moisture provided by the early morning QLCS. Development was starting to fire up in parts of Mississippi and Tennessee, but most development wouldn't begin until 22:00 UTC.
As people were still searching for missing and/or the dead, and clearing the streets of debris from yesterday's storms, at 22:06 UTC storms began to explode all over the southeast. The capping inversion had dissipated, something that the NWS was hopping wouldn't happen. Building CAPE and Helicity and left the atmosphere extremely unstable. Birmingham, who's outer reaches were hit hard by an EF4 yesterday evening, had CAPE in the area at around 7000 J/kg. There was also a steady 20 mph warm, moist inflow from the gulf. That, couple with the jetstream that screamed at over 200 MPH over head, generate immense roll in the atmosphere. With dewpoints at 85°F, Birmingham was simply a bomb primed and ready for detonation.
At 22:31 UTC, storms fired up in Tuscaloosa county. Just yesterday the city of Tuscaloosa had been ravaged by an EF5, so residents that were able to premptively rushed to shelter. Five small cells to the west of the city quickly exploded into a massive complex. Powerful rotation was immediately indicated on radar as it passed over Tuscaloosa at 22:52 UTC. For the second day in a row, the city was torn apart by an EF5. Thankfully because of the premptiveness of the residents, there were only 33 casualties. However, most of these casualties were people trapped in the rubble of their houses from yesterday's storm, unable to save themselves as they were torn apart by the whirling debris. Of the 33 who died in Tuscaloosa, 26 of which were those trapped in debris. The tornado continued on its ESE track at over 70 mph. At the same time the tornado passed through Tuscaloosa, another violent wedge touched 10 miles to the northeast from the same cell. Officially rated EF4 in strength, this tornado would go on to claim 89 lives as it tore through Alabama. It and its more powerful sister EF5 would go on to tear through Birmingham as the infamous "Birmingham Twins". Through here the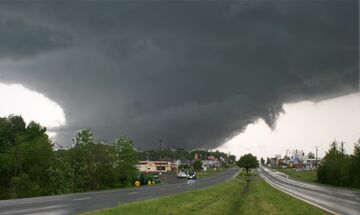 EF4 would claim 65 lives, and the EF5, which cut through the densest part of the South Birmingham's suburbs, would claim 177 lives. As the twins continued north, the EF5 arched east a little. As it did so, the town of Lincoln was completely obliterated, claiming 42 more lives. The EF4 however, arched northward a little, as it had begun to weaken. As a resulty the storm ended up passing ontop of I-59, killing 10. Just after the EF5 had demolished Lincoln, AL, the EF4 then passed right through Ashville, AL to the north. Damage here was extensive, with the western half of town experiencing Mid to High EF4 damage, and the eastern half suffering from high-end EF3 damage. After the EF4 passed through Ashville, it reintensified to an EF4, destroying a house in the process. However as it approached Rainbow City in Gadsden, AL, it passed over a wide river, severely weakening the storm. As it passed just to the south of Rainbow City, some houses were destroyed and severely damage. Damage here was rated EF2, and as the storm passed to the south of Gadsden, it took a sharp right turn and dissipated to the east of town.
The EF5 however continued on, killing 8 as it passed over US-Route 431. Cars here were obliterated as they were tossed about and into the trees. Passengers were ripped from the cars and left unrecognizable. At 23:47 UTC, just as the tornado was passing to the north of Jacksonville, spotters reported that the twister was on a weakening trend, and the presence of more mesos indicated that it would be replaced by another tornado shortly afterwards. The weakening was slow however, as it did High-end EF3 to Mid-level EF4 damage in Piedmont, AL, before crossing into GA and inflicitng EF3 damage in Cedartown, before arching to the east and finally dissipating at 00:03 UTC. As spotters had predicted, the storm soon dropped another violent stovepipe at 00:16 UTC with horizontal vortexes frequently forming on the outer bands. The rating of this tornado is officially EF4, but several surveyors argue for an EF5 rating, as one house in Cartersville, GA was found to have been properly secured with anchorbolts, but was ripped away. However the presence of many scattered trees led to the NWS keeping the High-end EF4 rating as it was clear that the house was obliterated by the debris rather than the winds.
This Supercell would go on to produce tornadoes until finally dissipating at 03:57 in North Carolina, and would in total claim 451 lives, the deadliest storm of the day, and costliest. The EF5 of the "Birmingham Twins" alone did $12.4 Billion USD in damages and claimed 221 lives, the deadliest and costliest tornado of the day.
Numerous other violent tornadoes were recorded throughout the day, claiming in total 793 lives, as each storm claimed more than a dozen lives. Alabama was the only state that day to experience all EF5 storms, resulting in a massive loss of life and billions in damages.
May 4th
Confirmed
Total
Confirmed
EF0
Confirmed
EF1
Confirmed
EF2
Confirmed
EF3
Confirmed
EF4
Confirmed
EF5
533
270
104
81
59
16
3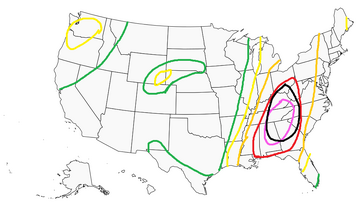 As the HIGH in the Atlantic moved out, the jet stream had bowed into a deep trough over the Eastern US. Because of this, the East Jet was now NNE unlike the past two days where it was ENE. The Jet Stream had retained its strength from the day before, but this time due to its direction, there isn't as much of a change in direction with height. Nonetheless at 07:00 UTC a HIGH Risk was issued for the SSW/NNE Corridor of the Appalachians of Alabama, Georgia, Tennesee, and parts of Kentucky, Virginia, North Carolina, and South Carolina. Like the previous three days, a black Signigicant Risk area was along the same corridor, only it covered a larger area that included much of eastern Kentucky, and western North Carolina, as well as a chunk of West Virginia, Virginia and southern Ohio. CAPE values along this corridor were in excess of 4000 J/kg by 17:00 UTC, providing sufficient instability for tornadic development.
Storms from the day before had, as the day before that, merged into a massive QLCS that knocked out power and dropped several weak to strong tornadoes along the MODERATE Risk area, causing extensive flash flooding as well as widespread wind damage. This again left a capping inversion over much of the area that would not disperse until later in the afternoon when temps had equalized. The vast presence of Altocumulus also reassured the fact that the airmass was still highly unstable despite 2 days straight of widespread and violent outbreaks.
Just as the two days before it, Tornadoes were reported and confirmed to be ongoing into the early hours. The OLCS that dropped these tornadoes was responsible for widespread major flooding and weak tornadoes. A few tornadoes were strong which resulted in scattered major damage but thankfully no fatalities or injuries occurred. By the late morning the QLCS had moved into the New England region, moving at 70 to 80 mph. The main threat for the QLCS was some brief tornadoes and damaging winds, as well as some localized flooding. While power in this region was knocked out, most of the threat was far to the south, decreasing concern for the New England states. 
Shortly after the QLCS had moved out of the area, supercells exploded over the south early afternoon. At 17:05, about a dozen small cells merged to form another QLCS that moved NNE at 75 MPH. This QLCS would go on to drop dozens of weak to strong tornadoes, including 2 EF4s. These storms weren't particularly notable in that only 32 people died as they moved through the area, all of which were in middle of nowhere homes that were poorly contructed with cut nails rather than anchor bolts. 
Following directly behind the second QLCS were dozens of discrete supercells that would go on to produce hundreds of tornadoes throughout the reast of the afternoon and into the evening. The most notable of which is the Charlotte, NC EF5 that tracked through the eastern half of the city, killing 94. This storm would go on to track more than 150 miles, claiming an additional 48 lives before finally lifting in central Virginia.
These storms would go on to produce over 300 tornadoes and claim 301 lives and over $19 Billion USD in damages were caused as violent tornadoes ripped through the southern Appalachians.Tornadic activity would continue into the early morning, but would fizzle out for several hours before picking back up in the afternoon May 5th. Overnight flooding and damaging winds was the main threat.
Northern Plains and Midwest Super Outbreak
May 5th
May 6th
Ad blocker interference detected!
Wikia is a free-to-use site that makes money from advertising. We have a modified experience for viewers using ad blockers

Wikia is not accessible if you've made further modifications. Remove the custom ad blocker rule(s) and the page will load as expected.