August 23, 2018 Tornado Family

Date of tornado outbreak:
August 23, 2018
Duration1:
4:01PM EDT-7:56PM EDT
Maximum rated tornado2:
EF5 tornado
Tornadoes caused:
9
Total Damages:
$1.14 billion
Total Fatalities:
76

1Time from first tornado to last tornado
2Most severe tornado damage; see wikipedia:Enhanced Fujita Scale
The August 23, 2018 Tornado Family was the worst Tornado Family on record producing 9 tornadoes...the strongest being two EF5 tornadoes...the First struck rural portions of Indiana and dissipated a few minutes after crossing Highway 69 in Western Howard County...the Second formed seconds later in Downtown Kokomo...on August 22, 2018 the Storm Prediction Center issued a Marginal Risk for Severe Thunderstorms in the Day 2 outlook with isolated large hail and damaging winds...as well as a isolated tornado or two were forecasted over Central and Northeastern Indiana...on August 23 the Storm Prediction Center issued a Slight Risk of Severe Thunderstorms with a 5% Chance of Tornadoes and a 10% percent chance of hail and winds with a few isolated tornadoes possible...around 3:45PM the SPC issued a Tornado Watch for Portions of Central Indiana with Tornadoes and a few intense possible...the first tornado touched down around 4:01PM...and was on the ground for 2 minutes...the tornado was rated a EF0..shortly later...at 4:06PM a Large Wedge Tornado touched down...the Tornado caused heavy damage...and was rated a EF3 tornado...the Tornado was on the ground for 9 minutes...and lifted off the ground at 4:15PM...at 4:31PM...a EF2 tornado touched down as a Stovepipe Tornado...the Tornado lifted at 4:43PM, and was the longest lasting tornado of the day...in the 2000Z the SPC issued a Moderate Risk of Severe Weather with 15% + hatched threat for tornadoes...the SPC issued a PDS Tornado Watch at 4:46PM with Destructive Tornadoes being the main concern...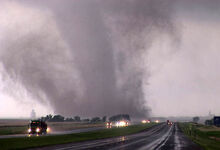 Confirmed
Total
Confirmed
EF0
Confirmed
EF1
Confirmed
EF2
Confirmed
EF3
Confirmed
EF4
Confirmed
EF5
9
1
2
1
3
0
2
Supercell Thunderstorms started to develop at around 4:35PM...brief tornadoes started to develop around 5:00PM...this is a wip
Ad blocker interference detected!
Wikia is a free-to-use site that makes money from advertising. We have a modified experience for viewers using ad blockers

Wikia is not accessible if you've made further modifications. Remove the custom ad blocker rule(s) and the page will load as expected.