EF5 tornado (NWS)
Duration
5:42PM – 6:34PM
Intensity
415 km/h (260 mph) (1-min)
the
2023 Dallas tornado
was a very powerful and deadly EF5 tornado that struck Dallas, Texas during the evening hours of April 6, 2023, the tornado was responsible for at least 2,500 injuries and 50 deaths
Meteorological Synopsis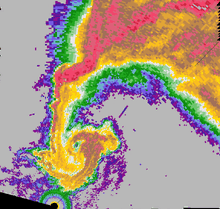 In the hours leading up to the tornado, the National Weather Service in Fort Worth were tracking isolated Strong Supercells across North Central Texas...by 5:00PM a EF3 wedge touched down near Fort Worth, the tornado lifted east of Dallas, and caused some High-End EF1/Low-End EF2 damage in North Dallas...that tornado was on the ground for 18 minutes...by 5:40PM another cell about 35 miles southwest of Dallas, Texas developed some rotation resulting in a Tornado Warning being issued...at 5:42PM a EF0 Stovepipe touched down about 32 miles southwest of Dallas...by 5:45PM the tornado strengthened to a small EF1 cone, around 5:50PM the tornado continued to strengthen to a large EF2 cone...around 5:52PM the tornado reached EF3 intensity about 26 miles southwest of Dallas...it took until 6:15PM for the tornado to reach EF4 intensity and until 6:20PM for EF5 intensity...the tornado reached peak width at 6:22PM CDT of 1.9 miles wide, and then started to slowly rope out...but a minute later the tornado reached peak intensity of 258MPH, the tornado apporached Dallas at low-end EF5 intensity around 6:25PM, and hit downtown at 6:30PM...the tornado finally roped out over Northern Dallas.
Ad blocker interference detected!
Wikia is a free-to-use site that makes money from advertising. We have a modified experience for viewers using ad blockers

Wikia is not accessible if you've made further modifications. Remove the custom ad blocker rule(s) and the page will load as expected.