This destructive tornado was a part of a much larger outbreak sequence This deadly tornado was a extremely destructive tornado that was the second worst to hit Shamrock Lakes since Modern Records began in 1950, the strongest was a F4 during the 1974 Super Outbreak that tornado had maximum winds of 216 or so miles per hour...while this one had max winds of 201MPH...the Tornado formed to the north of Gaston, Indiana...or to the south of Matthews, Indiana...the Violent Tornado moved to the North-Northeast causing EF3 damage on the East Part of Matthews, Indiana...the storm made a Northeast turn towards Extreme Northern Shamrock Lakes...the Tornado directly struck the Northern Part of Shamrock Lakes around 4:02PM causing widespread EF4 or possible EF5 damage...a entire house was found more than 100 miles away in Traverse City, Michigan...the wedge started to weaken after it left Shamrock Lakes to a EF3 tornado...the Tornado directly hit Downtown Hartford City resulting in a Tornado Emergency for the area as a EF3 tornado...the Tornado continued to weaken to a EF2 over the northwestern part of Hartford City...and eventually weakened to a EF1 around 5:11PM to the Southeast of Wabash, Indiana...at 5:16PM the Tornado weakened to a EF0 over Wabash...and dissipated at 5:18PM
EF4 or EF5 rating debate
The National Weather Service in Northern Indiana had a debate on July 13 on whether or not the Tornado should be rated EF4 or EF5, the Town of Shamrock Lakes voted EF5, but the rest voted EF4...in the end the Tornado was rated EF4...but is still considered by the Town of Shamrock Lakes as a "Extremely Destructive and Deadly EF4/EF5 tornado"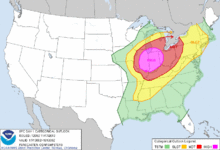 Single tornado or tornado family?
the NWS in Northern Indiana has recently doubted that this was a single tornado because of the damage path...It is still unknown whether or not this was a single tornado or a tornado family.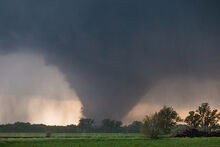 Ad blocker interference detected!
Wikia is a free-to-use site that makes money from advertising. We have a modified experience for viewers using ad blockers

Wikia is not accessible if you've made further modifications. Remove the custom ad blocker rule(s) and the page will load as expected.